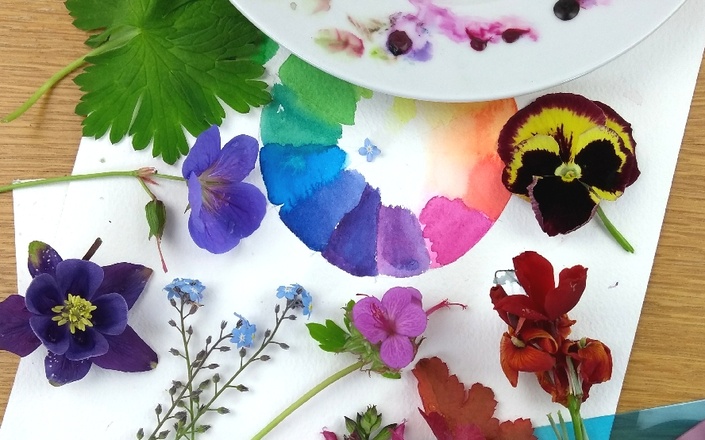 Full course - BOTANICAL COLOUR September 2020
This course may be repeated in 2021.

On this six week course we are going to consider ideas around colour mixing and matching. Then each week we will focus on a different colour and explore how to go about depicting flowers, fruit or vegetables of each particular colour.
SESSION 1 Colour mixing and matching
SESSION 2 Scarlets and Reds
SESSION 3 Purples and Blues
SESSION 4 Greens
SESSION 5 Browns and Blacks
SESSION 6 Whites and Yellow

You will then have a further four weeks to revise and revisit tutorials and finish projects.

This course is based on my popular little Colour book and is illustrated with artwork produced over 20 years as a botanical artist. Whilst I wouldn't want you to expect start to finish tutorials, each session is packed with tips, ideas and information about painting plants of the relevant colours.

This is a two way course, so you will have a named folder in which you can post work-in-progress for comments and advice. (These folders aren't private as I am trying the emulate the experience of being in a face-to-face classroom, where you would see what other students are working on and learn from each other as well as the tutor. However, posting work is entirely optional).
This course is primarily aimed at those who already have some watercolour or botanical art experience and places are limited.
Your Tutor
This tutorial is not open for enrollment.